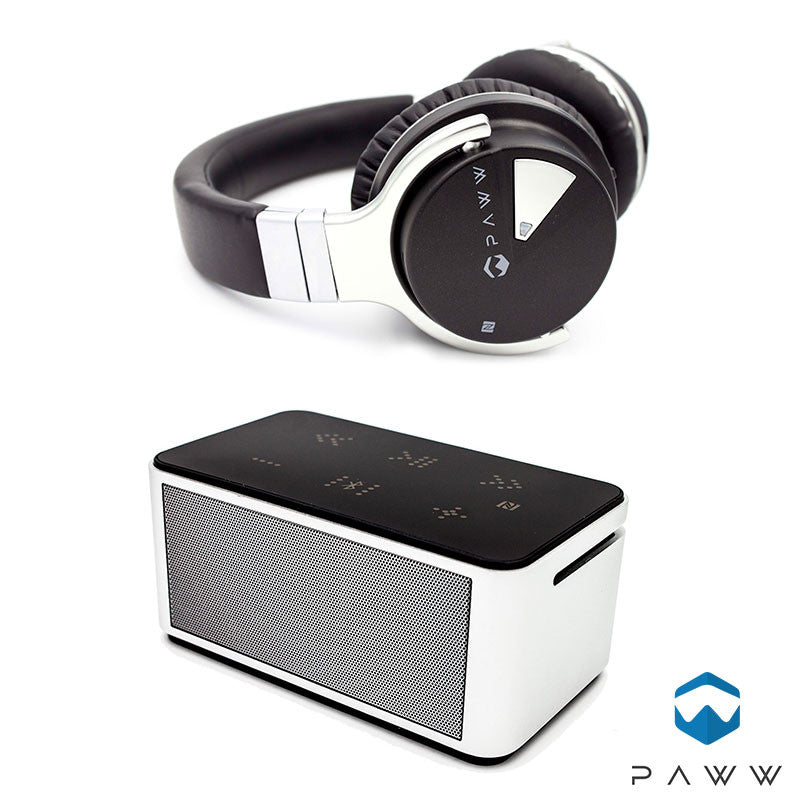 NEW YORK – November 11, 2015 – Paww, the creator of exquisitely designed and expertly engineered consumer electronics, is pleased to announce the availability of its premium headphone system, the Paww WaveSound 2, and speaker, Paww SoundBox 10.
Built on the concept of no compromise when it comes to style and functionality, the Paww WaveSound 2 headphones are ideal for lovers of high quality audio. Incorporating patented active noise cancellation technology, the headphones ensure a whisper quiet experience. They pair seamlessly through NFC or Bluetooth and are powered by a replaceable 3.7V, 860-mAh battery, providing up to 36 hours of continuous listening and active noise canceling. A passive listening mode can also be used once the battery is depleted.
The WaveSound 2 headphones offer a connectivity range up to 60 feet from the audio source, further than most standard headphones, and can be used as a hands-free device to answer calls. The headphones come with a sleek and sturdy case for storage when not in use.
With a sleek, aluminum design featuring touch panel controls, the Paww SoundBox 10 is an ideal solution for work and play. Specifically engineered with two high-quality neodymium drivers and a passive radiator system, combined with an acoustically designed slot, the SoundBox 10 ensures a depth in sound far surpassing expectations from a speaker of its size.
Utilizing sensitive microphone and advanced noise-isolating technology, the sound system can double as a conference call center with Bluetooth and NFC connectivity options. Plus, a single four-hour charge offers up to eight-hours of continuous listening.
The Paww WaveSound 2 ($249.99) and SoundBox 10 ($119.99) are available for purchase via MyPaww.com and Amazon. 
About Paww
Paww was born out of a passion for well-designed and engineered products. The team set out to build products that not only look fantastic, but are well engineered and at the cutting edge of technology. Paww is at the forefront of convergence taking place between consumer electronics and the internet. Keeping in sync with the continuously evolving audio space, the team is consistently at work developing new and innovative products. For more information, visit
http://www.mypaww.com/
.

Media Contact
Heather Hewit
heatherh@lotus823.com
(732) 212-0823